I haven't posted anything new lately. . . trust me. . . I tried. I have had a huge case of writers block combined with motivation and business. But, I am back. . . I think. I have my second Pampered Chef Party tonight and I am super excited! (On a side note, if you are interested in having a party in December. .. they are shipping quickly so it's a great opportunity to get some Christmas presents for free or stock up your Christmas baking tools).
Sometimes, I feel like we get too busy. But this week, despite the busy calendar, we have been doing lots of cuddling and taking walks in the fall leaves. . . it's awesome! But, tomorrow I am super excited because we get to start something totally awesome at our house. ADVENT. I am really excited because I have been on the hunt for a good advent activity that focuses on Christ's birth rather than Santa Clause and getting gifts. I found this one the other day and am super impressed. In fact, I think it was completely worth spending 4.99 on.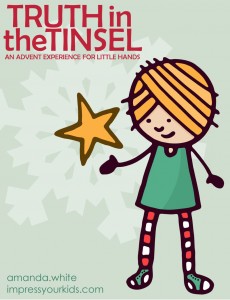 This advent focuses on different parts of the Christmas story with full scripture references that help a preschooler understand what Christmas is all about. Plus, each day they get to make an ornament. I am considering going to the dollar store to see if I can find a cheap tree just for Ethan and the advent ornaments. I really liked this one, because Ethan is very hands on and LOVES (as in begs for) crafts.
So, I am not being paid to tell you this, but I wanted to share this resource with you, because it's awesome and I am impressed with it. I am really excited to start this up tomorrow! Yay for Christmas!
oh yes, did I mention that it's a PDF, so you can get it immediately and there are no shipping charges. . . even better! I will also note that I even bought a advent chocolate calendar, too! I loved them as a kid, and I know that my chocolate loving 3 year old is going to, too!
What kinds of things are you doing to share Christ's love with your children this Christmas season?